RESULTS: CLASS A NEW CONSTRUCTION LEASE-UP
PROPERTY OVERVIEW:
The subject property is a class A, new construction lease-up located in northern Virginia. Ownership decided to bring CLASS onto the property before obtaining CO's to focus on leasing and maximize the unit absorption rate. In the year prior to arrival, CLASS was also in regular contact with ownership in order to conduct extensive market analysis and assist in the design of marketing materials to be used at the property.
CLASS began pre-leasing the first phase of 368 market rate apartments in September of 2014– one month before the property received its CO's. The average rent at the property was $1280/month.
RESULTS:
Within the first 5 months on the property, CLASS was able to secure 165 move-ins averaging an absorption rate of 33 move-ins per month.  With an absorption rate of more than 30 move-ins each month, the first phase of the property was already 44.8% occupied after leasing for less than half of a calendar year.
RENT REVENUE PER MONTH  – Click Graph to Enlarge
*Over the course of the first 5 months, CLASS secured 165 move-ins at the property. This averaged an absorption rate of 33 move-ins per month.
*Annual rent revenue generated by these move-ins = $2,534,400 ($211,200/month)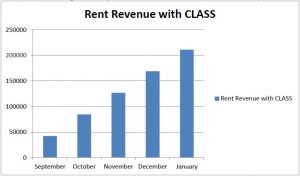 COST OF CLASS VS. INCREASE IN ANNUAL RENT REVENUE – Click Graph To Enlarge
Total cost of CLASS Service = $230,700 (includes travel related fees)
Annual Rent Revenue generated by CLASS = $2,534,400
CLASS ROI:  $2,534,400 – $230,700 = $2,303,700